Konceptuāla stikla mākslas izstāde "Jaunās pieejas / New Approaches"
Vineta Groza, 14.09.2015., 08:49
No 18. septembra līdz 9. oktobrim Latvijas Mākslas akadēmijas (LMA) 1. stāva zālē būs aplūkojama konceptuāla stikla mākslas izstāde "Jaunās pieejas / New Approaches".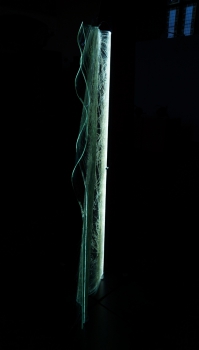 Izstāde sniedz ieskatu stikla mākslas dažādībā un tās laikmetīgajās izpausmēs. Ikviens interesents laipni gaidīts izstādes atklāšanā, kas notiks 17. septembrī plkst. 18.00.
Visbiežāk par stikla mākslu domājam tradicionālā veidā – kā trauku, dekoratīvu priekšmetu vai vitrāžu darinājumiem no stikla. Arī pašu stiklu asociējam ar caurspīdīgu, cietu un plīstošu materiālu, lai gan stiklu var apzināti deformēt vai transformēt plastiskās formās, ar to var radīt telpu, gaismu vai viegli nojaušamu sajūtu par citām dimensijām.
Izstādes "Jaunās pieejas / New Approaches" mērķis ir popularizēt stikla mākslu, to atainojot no atšķirīgiem skatupunktiem, demonstrējot dažādas tehnikas, izteiksmes līdzekļus un stikla mākslas daudzpusīgo un bagātīgo iespēju lauku - stikls kā medijs skulpturāliem objektiem vai instalācijām, stikls kā elements, kas ataino gaismu un ēnu saspēli. "Jaunās pieejas / New Approaches" dalībnieku izaicinājums ir atklāt mākslinieka radošumu, spēlējoties ar dažādām plaknēm, dimensijām un izmantojot stiklu kā galveno savu izjūtu mediju. "Jaunās pieejas" koncepcija veidota kā pāreja no tradicionāliem priekšstatiem uz vēl neatklātām idejām par stiklu starptautiskā mākslas kontekstā.
Izstādē piedalās gan studenti – jaunie mākslinieki, gan pasniedzēji, kuri pārstāv Latvijas Mākslas akadēmiju, Bratislavas Mākslas akadēmiju (Slovākija) un Tomasa Batas universitāti (Čehija). Kopizstāde ir notikums, kas rada iedvesmu un radošus impulsus jaunajiem un topošajiem stikla māksliniekiem, dibinot jaunus un stiprinot esošos kontaktus ar nozares mākslas pārstāvjiem no citām valstīm.
Dienu pirms izstādes atklāšanas, 16. septembrī, interesenti aicināti apmeklēt stikla māksliniekam Egonam Cēsniekam veltīto konferenci Mencendorfa namā (plašāka informācija - lma.lv/index.php?parent=5128).
Izstādē piedalās Latvijas Mākslas akadēmijas mācībspēki un studenti: Inguna Audere, Ilze Dūdiņa, Inita Ēmane, Agnese Gedule, Vineta Groza, Viktors Jansons, Sintija Lasmane, Jānis Murovskis, Aleksejs Naumovs, Ineta Pudža, Bruno Strautiņš, Sandra Utāne un Anna Varnase; Bratislavas Mākslas akadēmijas mācībspēki un studenti: Peters Djurišs (Peter Ďuriš), Lucia Dreveniakova (Lucia Dreveniaková), Patriks Huts (Patrick Huth), Patriks Illo (Patrik Illo), Malgoržata Konečna (Malgorzata Koneczna), Marta Matejkova (Marta Matejková), Palo Maho (Palo Macho), Štefans Nosko (Štefan Nosko), Filips Plačko (Filip Plačko), Daria Popolitova (Daria Popolitova) un Aleksandra Stencela (Aleksandra Stencel); Tomasa Batas universitātes pedagogi un studenti: Tereza Anderlova (Tereza Anderlova), Zdenka Fuskova (Zdeňka Fusková), Matiašs Hruška (Matyáš Hruška), Jiri Liska (Jiří Liška), Mihaela Spružinova (Michaela Spružinová) un Petrs Stanickis (Petr Stanicky).
Izstādes kuratore –Vineta Groza. Izstādes scenogrāfijas autors – Viktors Jansons.
Izstādes darba laiks: Otrdien, trešdien, piektdien, sestdien: 11.00–18.00; Ceturtdien: 11.00–18.00; Katru dienu pārtraukums: 14.30–15.00; Svētdien, pirmdien: slēgts.
на список новостей
О HC.LV
Пользователям HC.LV
Следи за новостями
Языки HC.LV
Другие ссылки
Новое на форуме
Поделись радостью
Superb internet site you've here. Also visit my homepage: los angeles movers (https://movers-los-angeles.business.site/)
Brock
Merely want to express I am just lucky that i came on the website! Review my homepage - Lg Tumble Dryer Black Washersanddryers.Co.Uk (https://zz.be/MediaWiki/index.php/User:NicholasScarberr)
Hollie
wonderful issues altogether, you simply won a new reader. What may you suggest in regards to your publish that you made some days in the past? Any sure? My page ... lisa armstrong foundation swatches (https://muabanthuenha.com/author/tobyligon7/)
Mahalia