Lias Kiršteines un Velgas Melnes mākslas darbi galerijā "Durvis"
Kristīne Ozola, 30.09.2015., 11:00
3. oktobrī plkst. 12.00 Mākslas galerijā "Durvis" (Brīvības laukumā 21, Tukumā) atklās Lias Kiršteines gleznu izstādi "No dziļumiem" un Velgas Melnes keramikas izstādi "Sarunas par Tukuma keramiku".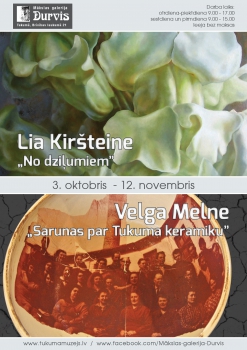 Abas mākslinieces ir Tukuma Mākslinieku grupas dalībnieces un abām šī ir jubilejas gada izstāde.
Māksliniece Lia Kiršteine ir tradicionālās mākslas gleznotāja. Viņa glezno eļļas tehnikā ziedus, lapas, klusās dabas un ainavas. Gleznas ir ļoti niansētas un jūtīgas, perfekti un smalki izpildītas. Tās valdzina ar dzejiskumu. Viņa ir meklējusi un veiksmīgi atradusi to slepeno, slēpto, kam ir jābūt gleznā, kas uzrunā, valdzina un patīk skatītājam. Pati māksliniece saka: "Laikam jau katram no Dieva dots kas cits". Runājot par sevi un savu devumu mākslā L. Kiršteine atzīst: "Mani vienmēr mulsina tas, ka kāds cits manas gleznas skatīsies, varbūt kritizēs, bet tas būtu tāpat kā, ja kritizētu manu bērnu. Protams, es labi saprotu - mākslinieku ir daudz un arī cilvēki ir ar dažādām gaumēm. Es ļoti lēni strādāju, esmu pieradusi, ka tapšanas laikā jāiet cauri tādam kā ciešanu periodam, bet tam jātiek pāri, nedrīkst vilkt garumā. Ir tāds brīdis, ir ideja un jāķeras klāt! Ja tu atliec, atliec, pēc nedēļas šo sajūtu neatjaunot."
Keramiķes Velgas Melnes izstāde "Sarunas par Tukuma keramiku" veidota kā konceptuāls projekts, lai pieminētu un aktualizētu Tukuma keramikas darbību. Darba tēmas izvēli sekmējusi autores personīgā pieredze un profesionālā darbība Tukumā. Izstādē apskatāmas 12 virpotas bļodas, kur četras no tām ir veidotas no brūnā māla masas un ir autentiskas Tukuma keramikā veidotajām. Tās eksponētas koka kastēs ar skaidu pildījumu. Deviņas ir baltas akmens masas bļodas ar fotogrāfiju un dokumentu printējumu, kas ir kā simbolisks vēstījums 20. gs. keramiķu atmiņu stāstījumiem. Darba fonu veido keramiķu sarunu audioieraksti un attēlu projekcija.
Par gleznotāju Lia Kiršteini.
Gleznotāja Lia Kiršteine dzimusi 1960. gadā. Beigusi Talsu 1. ģimnāziju. Absolvējusi Viļņas Valsts universitātes Dabaszinātņu fakultāti, inženierģeoloģijas specialitātē. Mākslas jomā izglītojusies dažādos kursos un studijās. Glezniecību apguvusi Viļņā scenogrāfa Vladimira Lukjanska gleznošanas studijā. Strādājusi Kandavas Lauksaimniecības tehnikumā par mākslinieci. Tagad ir Kandavas muzeja Mākslas galerijas vadītāja. Kopš 1996. gada piedalās izstādēs Latvijā. Sarīkojusi vairākas personālizstādes, darbi atrodas Latvijā, Krievijā, Zviedrijā, Vācijā un ASV.
Par keramiķi Velgu Melni.
Keramiķe Velga Melne dzimusi 1960. gadā. 1979. beigusi Liepājas Lietišķās mākslas vidusskolas Keramikas nodaļu. 2011. gadā beigusi studijas Latvijas Lauksaimniecības universitātē mājturības/mājsaimniecības un vizuālās mākslas skolotāja specialitātē. 2013. gadā absolvējusi Latvijas Mākslas akadēmiju, apgūstot keramiku akadēmiskā maģistra programmā "Māksla" Vizuāli plastiskās mākslas nozarē. No 1980. līdz 1989. gadam strādājusi Tukuma muzejā, bijusi restauratore, mākslas sektora vadītāja. Mācījusi mājturību Dzirciema speciālajā internātskolā, kā arī keramikas pulciņu Tukuma bērnu un jauniešu centrā un pansionātā "Ķīši". No 2005. gada ir Engures Mūzikas un mākslas skolas vizuāli plastiskās mākslas priekšmetu skolotāja un ārpusskolas darba organizatore. No 1999. gada regulāri piedalās izstādēs Latvijā un ārpus tās. Savos keramikas darbos viņa ir ļoti radoša, izmanto krāsainas glazūras un eksperimentālas formas un materiālus. 2000. gadā Velga Melne atvēra keramikas darbnīcu, kur viņas mākslas darbi top. Tā atrodas Tukumā, vienā no Durbes pils kompleksa ēkām.
Lias Kiršteines gleznu izstāde "No dziļumiem" un Velgas Melnes keramikas izstāde "Sarunas par Tukuma keramiku" skatāmas līdz 2015. gada 12. novembrim.
Ieeja – bez maksas.
Mākslas galerijas "Durvis" darba laiki: Pirmdienās: 09.00 – 15.00; No otrdienas līdz piektdienai: 09.00 – 17.00; Sestdienās: 11.00 – 15.00; Svētdienās: slēgts.
на список новостей
О HC.LV
Пользователям HC.LV
Следи за новостями
Языки HC.LV
Другие ссылки
Новое на форуме
Поделись радостью
Actually no matter if someone doesn't be aware of after that its up to other viewers that they will help, so here it occurs. My website ... lisa armstrong dazzle (https://www.onlinestorejkt.com/author/franksancho/)
Rebecca
Wow, lovely site. Thnx ... Check out my blog; adultfriendfindet (https://adultfrinendfinder.neocities.org/)
Danilo
Yes! Finally something about cosmetics uk wholesale (https://27.118.22.38/wiki/Th%C3%A0nh_vi%C3%AAn:JBPKatrina).
Alphonso