Klubā "Depo" uzstāsies grupas no dažādām valstīm
Guntis Vanags, 19.09.2006., 15:06
Laikā no 23. līdz 27. septembrim klubā "Depo" uzstāsies vairākas dažādu valstu metal un hc stila grupas no Ungārijas, Polijas, Austrijas, Vācijas un Brazīlijas.
4 dienu koncertu maratons sāksies 23. septembrī ar Ungārijas crossover/ metal grupas "Insane" koncertu. Grupa dibināta 1998. gadā, savā pastāvēšanas laikā izlaidusi 3 albumus, 2004. gadā "VIVA TV" nominēja to kā Ungārijas labāko modernā roka grupu. Vēl koncertā spēlēs vietējās grupas "Bruit Monkey", "Flavour Of Sin", "Ability", "Noon" .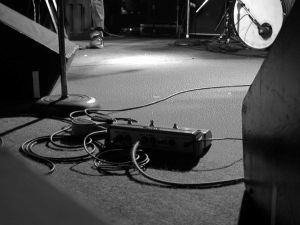 Svētdien, 24. septembrī klubā uzstāsies 2 Polijas death metal vienības – jau 1990. gadā dibinātā un 7 albumus izdevusī "Parricide" un 2001. gadā dibinātā "Patologicum", kā arī Latvijas grupa "Anpher.

Otrdien, 26. septembrī klubā kopā ar vienu no labākajām Latvijas metal grupām "Enhet" varēs redzēt arī Austrijas hc zvaigzni grupu "Ephen Rian". Kaut arī grupa ir salīdzinoši jauna – dibināta 2003. gadā, arī dalībnieku vecums ir tikai nedaudz pāri 20 gadiem, tā paspējusi skaļi sevi pieteikt Eiropas hc scēnā. Drīz pēc viņu pirmā ieraksta izdošanas grupa tika slavēta kā Austrijas talantīgākie jaunpienācēji. Viņu pirmais singls "Escape Of No Avail" kļuva par andergrounda hītu un tika iekļauts vairākās Grieķijā, Beļģijā, Holandē, ASV un Vācijā izdotajās izlasēs kopā ar tādām zvaigznēm kā "Anti- Fla", "Circle Jerks", "Thursday", "7 Seconds". Viņu pirmais EP "The Special Referendum" tika izdots jau Itālijas leibla "Wynona Records" (viņu grupas ir arī "Vanilla Sky", "Stinking Polecats", "Forty Winks", "Holiday with Magie") paspārnē. 2006. gada sākumā aktīvā MTV rotācijā tika iekļauta viņu dziesma "Viva La Mopped".

Trešdien, 27. septembrī uzstāsies "The Tangled Lines" no Vācijas, kurā apvienojušies brāļi Konrads un Volframs ar brāli un māsu Pulu un Luizi, kā arī mūsu platuma grādiem pavisam eksotiski viesi – grupu "Ataque Periferico" no Brazīlijas, kura pastāv jau no 2001. gada, 2003. gadā izdevusi savu debijas albumu, kurā tika iekļauti 13 eksplozīvi un skaļi fastcore/ trash skaņdarbi portugāļu valodā. Vēl šajā koncertā klubā "Depo" spēlēs arī Latvijas grupas "Headshot" un "Thursday 12th".
на список новостей
О HC.LV
Пользователям HC.LV
Следи за новостями
Языки HC.LV
Другие ссылки
Новое на форуме
Поделись радостью
Thanks a lot! This a impressive internet site. my website: %anchor_text (https://www.yomart.store/user/profile/26551)
Sofia
Keep up the good work and generating the crowd! Also visit my website %anchor_text (https://www.forexpeacearmy.com)
Gabriela
Simply just desired to tell you Now i'm glad that i stumbled in your webpage. Take a look at my website; %anchor_text (https://www.startoto77.com/safetytoto)
Shaunte