Rīgā janvārī viesosies grupas "Kataklysm", "Septicflesh" un "Aborted"
Klubs "Melnā Piektdiena", 09.12.2015., 10:33
18. janvārī klubā "Melnā Piektdiena" uzstāsies muzikālās formācijas, kuras jau ierindojušās zināmo pasaules "death metal" grupu sarakstā: "Kataklysm", "Septicflesh" un "Aborted".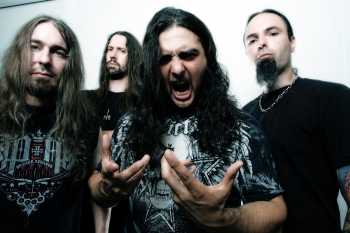 Kanādiešu kolektīvu "Kataklysm" 1991. gadā izveidoja basģitārists un vokālists Mauricio Iakono (Maurizio Iacono). Vēlāk viņam pievienojās vokālists Silvens Houde (Sylvain Houde), ģitāristi Žans Fransuā Daženē (Jean-Francois Dagenais) un Stefans Kotē (Stephane Coté), kā arī bundzinieks Ariels Seids (Ariel Saied Martinez).
1992. gadā "Kataklysm" ierakstīja demo "The Death Gate Cycle of Reincarnation". 1993. gadā zem leibla "Nuclear Blast" iznācis EP: "The Mystical Gate of Reincarnation". Gadu vēlāk beļģu leiblā "Boundless Records" izdota septiņcollu gramplate: "Vision the Chaos".
1995. gadā kompānija "Nuclear Blast" izlaida pilnformāta debijas albumu "Sorcery". Albuma atbalstam bija noorganizēta tūre Eiropā, kopā ar metāla kolektīviem "Deicide", "Brutal Truth", "Sinister", "Cathedral" un "Fleshcrawl".
2000. gadā mūzikas kritiķi labi novērtēja albumu "The Prophecy". Disks bija ierakstīts Monreālā un sasniedzis augstas pozīcijas čartos: #6 - CMJ "Loud Rock Charts", ASV un #2 kanādiešu "Loud Rock Charts".
Nākošais mūzikas krājums "Epic: The Poetry of War", arī saņēma augstu novērtējumu žurnālos: "Rock Hard" — 8,5 no 10, "Metal Hammer" — 6 no 7, "Legacy" — 13 no 15.
2015. gada 31. jūlijā leiblā "Nuclear Blast" iznācis kārtējais grupas "Kataklysm" albums: "Of Ghosts And Gods". Kopumā kolektīvs ir ierakstījis divpadsmit pilnformāta CD.
Grieķu grupa "Septic Flesh" radās 1990. gadā ar sekojošo sastāvu: Sotiris Vagenas (vadošā ģitāra), Set Siro Anton (basģitāra un vokāls), un Kristos Antonio (Christos Antoniou) (ģitāra). Jau 1991. gada decembrī pasauli ieraudzīja pirmais EP: "Temple of the Lost Race". Pēc neilga brīža grupa izjūk un atjaunojas ar iepriekšējo nosaukumu, bet jaunais nosaukums rakstās jau bez atstarpes: "Septicflesh".
Kolektīva "Septicflesh" radošā kvēle kļuva tik liela, ka katrs nākamais albums sanāca labāks un labāks, un beigās pārtapa par "simpho-death" mūzikas paraugu. Ziemā šī komanda atbrauks uz Rīgu piedāvās noklausīties jauno albumu "Titan" un jauno bundzinieku Kerimu Lehneru (Kerim Lechner), kurš sevi ir pierādījis tādā grupās kā "Decapitated" un "Behemoth".
Grupa "Aborted", kura dibināta 1995. gadā Beļģijā, izpilda bargo "death metal" un "grindcore" mūziku. Pastāvēšanas laikā grupas sastāvs mainījies tik bieži, ka grupu var nosaukt par internacionālu. Kolektīva dalībnieki ir bijuši gan vācieši, gan francūži, gan angļi, gan itāļi. Vienīgais un nemainīgais paliek tikai vokālists. Diskogrāfijā ir divi demo albumi, 8 studijas plates, divi EP, trīs spliti un viens live DVD (2006).
Grupas izpildīs arī vecos hītus, kas kā "piedeva" izskanējušas notikušajos šovos citās Eiropas pilsētās.
Durvis uz pasākumu tiek vērtas plkst. 19.00. Pirmā grupa uz skatuves kāps plkst. 20.00.
Biļetes uz koncertu pieejamas mājaslapā "Ticketshop.lv". Biļešu cenas sākot no 20 €. Biļetes būs iespējams iegādāties arī pie ieejas koncerta norises vietā.
на список новостей
О HC.LV
Пользователям HC.LV
Следи за новостями
Языки HC.LV
Другие ссылки
Поделись радостью
Your information is very fascinating. My website: %anchor_text (https://homecarenursingservices.com)
Rita
I love this site - its so usefull and helpfull. my site ... %anchor_text (https://trithucvn.net/du-lich/nhung-dieu-can-luu-y-khi-du-lich-ky-quan-the-gioi-vinh-ha-long.html)
Marguerite
Заказать seo поисковую оптимизацию сайта, Заказать услуги по продвижению сайта По всем возникшим вопросам Вы можете обратиться в скайп логин <b>pokras7777</b>Раскрутка сайта под ключ .Так же собираем базы
malytka