Topošajā Koka arhitektūras centrā "Kalnciema kvartāls" aktīvi noris ēkas renovācijas darbi
Ilze Muceniece, 19.06.2015., 14:59
Ēkā Kalnciema ielā 33 Nr.2, Rīgā, pašlaik tiek veikta fasādes un iekštelpu renovācija.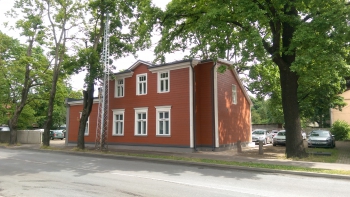 Tajā tiks izveidots "Koka arhitektūras centrs "Kalnciema kvartāls"", kas būs atvērts Latvijas iedzīvotājiem un ārvalstu tūristiem, ar mērķi popularizēt Pārdaugavas un Latvijas koka arhitektūru - praktisko darbnīcu, lekciju, prakšu un ekskursiju formā informējot un izglītojot sabiedrību par koka ēku saglabāšanu, kultūrvēsturisko vērtību, apsaimniekošanu un atjaunošanu.
Topošais Koka arhitektūras centrs "Kalnciema kvartāls" ir valsts nozīmes aizsargājams koka arhitektūras piemineklis, kas celts 1895.gadā, bet vēlāk pārbūvēts 1930.gadā. Tā renovācija notiek saskaņā ar LR kultūras pieminekļu aizsardzības prasībām, saglabājot tā kultūrvēsturisko vērtību un padarot to publiski pieejamu nākamajām paaudzēm. Renovācija tiek veikta saskaņā ar tradicionālās amatniecības un ekoloģiskas būvniecības tradīcijām, izmantojot tikai roku darbu bez rūpnieciskas iejaukšanās. Tiek izmantoti tikai dabīgi un otrreiz atjaunojami kokmateriāli un koksnes izstrādājumi, dabīgas krāsas – ekoloģiskas lineļļas krāsas koka darbiem.
Ēkas iekšdarbu renovācijas procesa laikā, noņemot no ēkas iekšējās starpsienas papes kārtu, latojumu, dēļu klāju, skalus, kaļķa javas apmetumu un tapetes, renovācijas veicējiem atklājās siena ar dekoratīvo apdari, kas oriģināli saglabājusies no 19 gadsimta beigām - 1896. gada, kad 15. martā Fridrihs Valters, projektējot to arhitektam H.Šēlam, lūdza atļauju piebūvēt pie dzīvojamās ēkas piebūvi ar papes jumtu, kurā atrodas jaunatklātā starpsiena. Iekštelpu sienas dekoratīvā apdare ir tipiska 19.gs./20.gs. mijai un veidota tā laika valdošās neoromantiskās tradīcijas garā, tādēļ sienu nolemts atjaunot.
Renovācijas process norit SIA "Kalnciema kvartāls" realizētā projekta "Koka arhitektūras centrs "Kalnciema kvartāls"" Nr.3DP/3.4.3.3.0/13/APIA/CFLA/006/003 ietvaros. Projektu atbalsta Eiropas Reģionālās attīstības fonds 50 % apmērā no kopējās summas 185 023.76 EUR.
Sekojiet aktuālajai informācijai: www.kalnciemaiela.lv.
на список новостей
О HC.LV
Пользователям HC.LV
Следи за новостями
Языки HC.LV
Другие ссылки
Новое на форуме
Поделись радостью
These exhibitions are attended by local and worldwide artists and embroiderers who can teach you the artwork of embroidery. Feel free to surf to my web page www.youtube.com (https://www.youtube.com/watch?v=wcdUHI5yf04)
Aubrey
Nice web-site you possess there. my webpage; 우리카지노 (https://fatfreezinginfo.com/forums/users/emmett93f782111/)
Melba
Many thanks very useful. Will share website with my good friends. my web-site: can you double your bitcoin (https://doublebtc.net)
Lino